Latest Update - February 2003 - Something MYTH Inc & the promise of new releases!
At last I have put in the update about the long awaited release of Something MYTH Inc!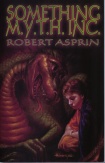 Not as good as I had hoped, it did follow the continuity with Sweet MYTHtery of Life very well, but the story lacked. I have just re-read the whole series again over Christmas (to stop watching to much TV!). I found that I enjoyed reading MYTHion Improbable a lot more than the latest release. I think the book is still worth having, it's just not the best book in the series. It did have a additional short story included by both Jody Lynn-Nye & RLA (whom now all the new MYTH books will be co-authoured by), this was quite good and shows a lot of promise for the future releases:-
MYTH Alliance - due out in August 2003
MYTH Taken Identity - due out in August 2004
On the subject of short stories, I have noticed that the four compilations of all the previous stories will each come with part of a new short story. I do hope that this new story will be added to one of the NEW books, as I feel it is an insult to loyal fans to expect them to buy four compilations of old books that they already have just to read the new short story! Come on Meisha Melin, fair dues! For all the loyal MYTH fans, please include it in the new book MYTH Alliance or produce it in it's own volume!
On the subject of short stories, I am glad to see that the NEW short stories that were to be included with the new omnibus releases of the existing stories, are to be released in their own volume called MYTH Told Tales (due out in April) - this includes the short story MYTH Congeniality. That is a good move from Meisha Merlin for all the loyal fans of the MYTH series, thanks.
October 2001 - Not MYTH-ing anymore!
The new MYTH book has finally been released, MYTH-ion Improbable. I have just read it twice and I like it! It starts off a little lacking, but soon the story grips you and I found it hard to put down. You can see a shot of the final cover and legend off the back on the bottom of this page. This shows real promise for the conclusion of the series, RLA was using this book, which is a prequel set between MYTH Directions and Hit or MYTH, to get back into the swing of writing the characters. The story works and is worthy to fit in with the rest of the series on my book shelf. I would certainly recommend it, you can get it direct from the publisher, or if you are in the UK, you can get is easily from www.amazon.com - if you already have an account with the UK version of Amazon, you don't need to create a new account, you can buy straight from the America site (it accesses your UK details). I am now chomping at the bit to see the continuation of the series with Something M.Y.T.H. Inc. (and book twelve, now thirteen?). Also we now have the possibility of other prequels or side stories - but lets not run away with ourselves, just hope Something M.Y.T.H. Inc comes out soon. Thanks Robert Asprin and thanks Meisha Merlin.
18 June 2001 - Hope in our MYTH-d V1.1
After getting back from holiday in China on the 13 June, I had checked my email the next day. Tom Chaberlain (thanks) had sent me an email notifying me that Meisha Merlin have now put the intro and first chapter of the new MYTH book - MYTH-ion Improbable on their website. The next day I visited the website again and noticed they had just put up the cover art. Next day I received an email from Stephen Pagel of Meisha Merlin copying me a better copy of the graphic including the spine. Although this is not the finished cover, it's a 'colour wash sketch' sent to RLA for approval, it still looks good. I like the colour scheme and fonts. I am told some of the text will be reworked and the image of Tanda will be changed slightly - which I personally hope is done - as she is described as very sexy! Here ends the good news, until more info is received!

In addition to the above, I was emailed a little while back from James A Whitney whom had visited my site (one of many I hope). He informed me that he was the author of the fan fiction - Sweet Myth-tery of Liff. Now I know, Thanks James.
3 May 2001 - Hope in our MYTH-d
On 1 May I received an email from Stephen Pagel of Meisha Merlin, which announced Myth Adventures 1 is being shipped to MM next week and with the sign [by RLA] hard cover books following in about 3 weeks. These should soon be available to the public - check regularly on the Meisha Merlin site for the latest details (or here, or Geoducks' site - one should have latest!). More importantly for long term fans, there was news of a new MYTH book coming out - which would be the eleventh in the series (after Sweet MYTH-tery of Life).
I quickly emailed back and asked what I could post on the newsgroup and have on my site - to which I had a reply stating I could release the basic info at this stage, but would have confirmed info hopefully soon. I can confirm that is not a collaboration, like the last two in the Phule series.
As soon as I get more info and the go ahead from Meisha Merlin, I will put the latest info here and post to the newsgroup. If there was enough interest I was going to hash a mailing list - if anyone doesn't monitor the newsgroup or here, you can email me (see bottom of page) with the subject line 'MYTH info' and I will mail you the latest info when I get it.
February 2001
No reply to my email, but they have added a littel more information to their pages regarding selling signed copies of re-issued MYTH books.
January 2001
Meisha Merlin have announced that Robert Asprin has agreed to add two new books to the MYTH series - they are re-releasing the original ten books, here is the link to the said page - http://www.meishamerlin.com/MythAdventuresOneDescription.html
I have emailed Meisha Merlin on the 14 January 2001 asking them for more info about this... email sent.
5 December 2000
Yes, Phule Me Twice has been released, I have just checked on Amazon.co.uk and it is available! get your order in now!

The Latest News 30 September 2000
There is now a new Phule book coming out this December, called 'Phule Me Twice', co-written with Peter Heck again. Also another co-written book with Jody Lynn Nye - 'License Invoked' - this is a 'stand-alone' book and apparently come from an old idea from RLA. See Geoducks RLA Page for futher info (in his newgroup FAQ). Does this mean more promise of an up-coming MYTH series book, could be, but it would very likely be co-written.
The Latest News - 19 June 2000
There has been a post on the alt.fan.asprin newsgroup regarding a reply from Lynn Abbey (Robert Asprin's ex wife). In this reply Lynn Abbey remarks that Robert Asprin has made an arrangement to have the Myth series completed with collaborative writers. Here is a copy of the post - Lyn Abbey Reply
Geoduck has finished the epic fanfic! It is worth a read (see below for previous details - Large Multi Contribution Story) - Geoducks RLA Page
The MYTH Books
Robert Lynn Asprin's brilliant funny-fantasy series, if you have not got them, then hop over to www.amazon.co.uk or www.amazon.com and order them now! - That was a quick sales pitch for RLA's Myth Books - I really do recommend them!
The first book, Another Fine Myth, was published in 1978, the last in the series, so far... was published in 1996. Robert Asprin had done little writing after Sweet Myth-tery of Life, if you look on Deja News on his News group alt.fan.asprin, you will see various reasons put forward for this, such as writers block - which RLA had mentioned in the intro to Sweet Myth-tery, also dealings with Donning Publishing and the publishing company that took over Donning - Schiffer Books.
I Emailed Schiffer Books in March 2000 to confirm that they had taken over Donning, which they confirmed quickly, but when I requested info about RLA's contract and continuation of the Myth Books with Schiffer, all went eerily quiet... with no reply...
The Continuation...
The Myth books were contracted for a further two books and at the end of Sweet Myth-tery of Life there was an extract from the next book, which was to be called Something M.Y.T.H. Inc. As you can see from above it does not look promising for the Myth series to be continued... or maybe it could be? Robert Asprin along with Peter Heck published the third Phule series book late in 1999, the last one was published in 1992. I read this after seeing much written about it in the alt.fan.asprin newsgroup, a lot being derogotory. I can say that I agree with it, although there are a few inconsistancies with the continuity, but then some of the best TV Sci-Fi series have suffered much worse (Star Trek, Star Trek TNG, Blake' 7, Doctor Who) - and most are considered to be great series with huge fan followings whom are willing to overlook these small inconsistancies, so big deal moaning about it! Ranting again, sorry. I really enjoyed Phule and His Money, and I don't know how much Peter contributed to the book, but to me RLA's style and enjoyable writting shone, and it is great to see him writing again (I might be completely wrong and RLA had only a small part of the contribution, but I don't think so). So if RLA is writting again (also another co-authored book is coming out soon for another of his series), and if he can resolve some of the issues with the publisher whom have the publishing rights (Schiffer), he may continue the series. I hope Schiffer see it is in their own interest to resolve things with RLA and publish another Myth book if RLA writes one (if he has not already - hoping), there would be an awful lot of people out there whom would buy it - he has quite a cult following...
The only continuation of the Myth series since Sweet Mythtery of Life has been fan fiction on the alt.fan.asprin newsgroup, these stories can be collect from Deja News and other websites. These stories are:-
Mything Pieces

An odd short story with anime connections penned by Marc Seebass. To find use Deja News (go Search Discussions) and do a power search for subject 'mything pieces' on newsgroup alt.fan.asprin.

The Naked Truth

Quite good short story penned by Neil Robertson. To find use Deja News and do a power search for subject 'the naked truth' on newsgroup alt.fan.asprin

Sweet Mythtery of Liff

A parody of Sweet Myth-tery of Life in 36 chapters I am not sure whom the author was - if you know, let me know. To find use Deja News and do a power search for subject 'sweet mythtery of liff' on newsgroup alt.fan.asprin or on the Sweet Mythtery of Liff website.

Large Multi Contribution Story

This is a large, still continuing story it first orginated from Collaborative Story website where chapters 1 to 10 can be found, it has fizzled out from it's original source, continued to chapter 13 on the news group (alt.fan.asprin use Deja News, power search for subject 'collaborative' to get chapters 11 to 13), this was probably due to various factors, to me the story got a bit silly around this section. Then Geoduck continued the saga on his website/Myth Adventures page on www.olywa.net/cook/rla, and posts to the newsgroup (alt.fan.asprin) every time he does a new chapter, it is up to chapter 27a (March 2000). Geoduck has saved the saga, which he has continued well. You will also find on his site the FAQ for the alt.fan.asprin newsgroup. This story is worth a read.

Latest - as of June 2000 this story has been completed!
The Books and the Artwork
Below is list, cover picture and legend off each of the books in order of there appearence in the series. each small picture of the book cover contains a link to a larger version for better viewing. While on the subject of the covers, I really like the artwork of Walter Valez, does anyone out there know if he brought out any books or prints of his artwork, especially the Myth Book stuff (I would love a print of the cover of Another Fine Myth!).